Staff Profile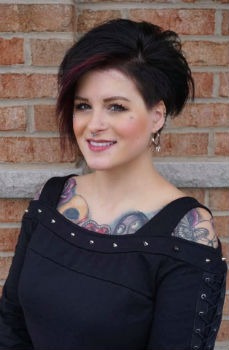 Ashlee
Hair Stylist and Nail Tech
Ashlee has been a valuable member of the Brooks & Co styling team since 2012.
Specialty: My finishing work
Must Read/Follow: I like to follow BII Hair Salon (another Team Based Salon), Marc 315 and jacquelynmarieh
Daily Essentials: Matte Lipstick, Hulaneon Velvet, Liquid Lipstick Goes Matte & Eufora Uplift Hair Spray
Education: Jolie Beauty Academy, Continuing Education with Eufora, Cezanne & L'Oreal. I am also our Eufora Elite Team Member
My Approach: Having the confidence to deliver the best results to our guests.
Must Have Tools: Blow Drier, Round Brush & Flat Iron
Inspiration: Pinterest, You Tube & Instagram for Hair & Food
What do you love about working in a Team Based Environment: It is nice coming to work knowing that there is no competition with your co-workers. Everyone here helps out each other. We put our guests needs first and foremost. It is our number one priority that each guest leaves happy no matter who comes in contact with them!
Schedule Appointment
Refer a friend
Buy a Giftcard
My Hours
TUE12:00 PM - 08:00 PM
WED10:00 AM - 06:00 PM
THU12:00 PM - 08:00 PM
FRI10:00 AM - 06:00 PM
SAT09:00 AM - 05:00 PM